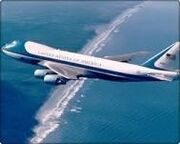 Air Force One
Edit
Air Force One is the American president's personal plane. It is a quad jet plane.
Air Force One is a Boeing 747-200B that has been modified to meet presidential requirements. The aircraft is known by the radio call sign used when the president is aboard: Air Force One.
Historically, several U.S. presidents have flown on Boeing aircraft.
In 1943, President Franklin D. Roosevelt flew to Casablanca aboard a Boeing model 314 Clipper. In 1962, Boeing introduced U.S. presidents to modern jet transportation with the introduction of the Boeing model 707-320B. In all, seven presidents were served by the 707-320B. Today, the chief executive flies aboard a specially configured 747-200B, the newest and largest presidential airplane. Its capabilities include: Longer range for presidential travel Aerial refueling Self-sufficiency at airports around the world The "flying Oval Office" has 4,000 square feet of interior floor space. Among its accommodations are:
Conference/dining room Quarters for the president and the first lady An office area for senior staff members Another office that converts into a medical facility when necessary Work and rest areas for the presidential staff, media representatives and Air Force crews Two galleys that can provide 100 meals at one sitting Multi-frequency radios for air-to-air, air-to-ground and satellite communications Principal differences between Air Force One and the standard Boeing 747 include state-of-the-art navigation, electronic and communications equipment; its interior configuration and furnishings; self-contained baggage loader; and front and aft air-stairs.