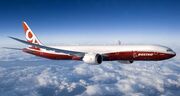 Write the first paragraph of your page here.
Boeing 777X
Edit
The 777X will be the largest and most efficient twin-engine jet in the world, with 12 percent lower fuel consumption and 10 percent lower operating costs than the competition.
The 777-9X will have the lowest operating cost per seat of any commercial airplane. It will offer a range of 8,200 nautical miles (15,185 km) and seat more than 400 passengers. The 777-8X will compete directly with the A350-1000 and will boast an incredible range of up to 9,300 nautical miles (17,220 km) with seating for 350 passengers. The 777X is scheduled to enter service in 2020.
Like the 787 Dreamliner which was launched as the 7E7, the 777X will be formally named at a later date.
The 777X is designed to make an end to the 747 era, as it's going to replace them. It features the new GE GE9X engines, The biggest aircraft engines from now on.
It will feature fly by wire and most buttons will become touchscreens.